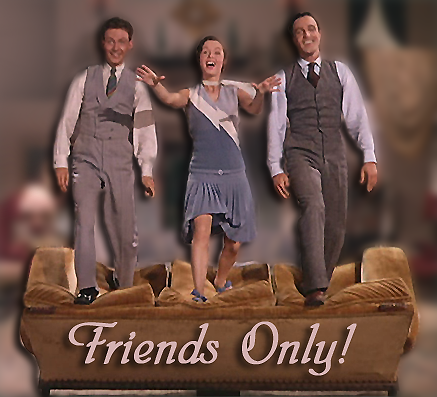 So I've decided to make my journal friends only, but I'm very friendly so, If we share any interests please feel welcome to friend me and I'll add you back....
pandacat
, in case you don't want to sit watching DAVE all night, here it is....
I'm sorry but I'm going to have to Squeeeeeee!
For
Current Mood:

excited
You're packing your bag for that other desert island—the one with no electricity—what 5 books do you take with you?
Well, number one would have to be 'Captain Correllis Mandolin' by Louis de Bernieres. It's a beautiful, funny, romantic and sad book - much better than the film adaptation.
Second, 'The Great Gatsby' by F. Scott Fitzgerald - by rights i shouldn't like this book because I studied it for my A level, but it's been a favourtie since then.
Third, Fourth and Fifth... (suprise, suprise) would be 'Infinity Welcomes Careful Drivers', 'Better Than Life' and 'Backwards' by rob Grant and (IWCD and BTL) Doug Naylor. They would cheer me up when I was fed up of eating coconuts and fish from the sea.
Current Mood:

contemplative
My very artistic friend
pandacat
just drew me a lovely present - she does the cutest drawings. He's a very friendly looking polar bear and he's making me feel all wintery - don't know if he has a name - i'll have to find out.
Here he is
Isn't he cute! :D
Current Mood:

impressed
Here's your teaser...



(
Fun, fun, fun - under here!
Collapse
)
It's taken me ages to make these. I'm new to icon making, this is only my second batch, so they're not great but I'm proud of some of them. There's 22 altogether, all kinds but all from series 2. If you want them please take. Credit marvellous but not necessary. Comments and friends would be fan-smegging-tastic.
Current Mood:

accomplished
If you like them feel free to take them - i'd be honoured. Credit is nice but not necessary. Comments and friends would be fabulous.
Here's the tasters - there's only 9 at the min but I'm working on more.



(
More icons under here...
Collapse
)
Hope you like them.
Well, I'm not very good at using photoshop but I do love playing around with it. Yesterday I discovered the wonder that is downloading brushes! So to celebrate I spent all night messing around with pics of Mulder and Scully.
Current Mood:

creative